An update to my experience with comics.
I am in love. My husband and I dove headfirst into the comic world and I am loving it. Here is an update of comics and graphic novels I have read and that I am planning on reading in the near future.
I have broken down this list into broad categories. You might notice a trend, females in lead roles. This is on purpose. More and more comics readers are women and as such I am trying to soak up as much material as possible that features kick ass women.
Y the Last Man by Brian K. Vaughan
What would the world be like if all the male species on Earth, except one, died at the same time? That is the question Brian K. Vaughan asks in his acclaimed series that started in 2003. Below is a description from GoodReads.com.
"Y" is none other than unemployed escape artist Yorick Brown, and he's seemingly the only male human left alive after a mysterious plague kills all Y-chromosome carriers on earth. But why are he and his faithful companion, the often testy male monkey Ampersand, still alive? He sets out to find the answer (and his girlfriend), while running from angry female Republicans (now running the government), Amazon wannabes that include his own sister (seemingly brainwashed), and other threats.
My husband got me into the series and I abandoned all of my children's reader's advisory reads to finish it.
Audience: Adult

Bitch Planet by Kelly Sue DeConnick
DeConnick, who is the writer of the 2011-2015 Captain Marvel also brings us this in your face feminist series.
Bitch Planet is basically a prison where women get sent for their "crimes" and non-compliance against the patriarchal society. This series is ongoing, I have just read the first volume and I love the feel of the characters and their beliefs but I am not sure exactly where the story is going yet. I am mainly loving that this comic is basically Kelly Sue DeConnick flipping off our male dominated society. Audience: Adult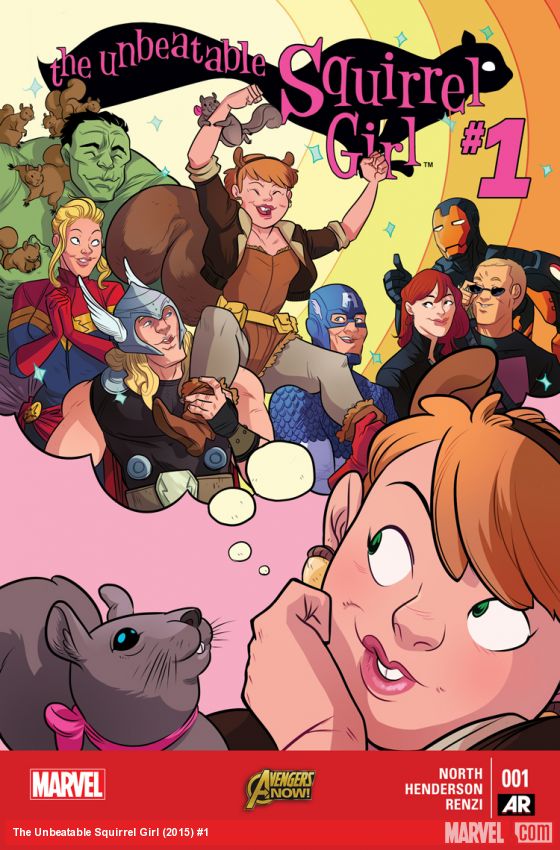 Ms. Marvel, Captain Marvel, A-Force and Unbeatable Squirrel Girl
These four titles are all about kick ass women superheros. Carol Danvers as Captain Marvel, Kamala Khan as Ms. Marvel, A-Force consists of an entire league of female heroes, and the hilarious Unbeatable Squirrel Girl. Unbeatable Squirrel Girl, aka Doreen Green is a mutant with the powers of a squirrel and her squirrel sidekick, Tippy Toe. This older character brought back into the fold and I am totally bonkers about it. If you are not in a mood for a super serious comic with villains then you need to read how Squirrel Girl can use her good nature and humor to chill out the bad guys.
Lumberjanes by Noelle Stevenson and Grace Ellis
Another super fun comic, here is the description from GoodReads.com.
"

At Miss Qiunzilla Thiskwin Penniquiqul Thistle Crumpet's camp for hard-core lady-types, things are not what they seem. Three-eyed foxes. Secret caves. Anagrams. Luckily, Jo, April, Mal, Molly, and Ripley are five rad, butt-kicking best pals determined to have an awesome summer together... And they're not gonna let a magical quest or an array of supernatural critters get in their way! The mystery keeps getting bigger, and it all begins here.

"
I love all the mystery and weirdness that happens at this camp, and how the girls just roll with it. I also enjoy that instead of cursing they say things like, "Oh my, Susan B. Anthony." Overall this witty comic is just a fantastic read for those who love adventure and random raptor attacks.
Nimona
by Noelle Stevenson
This 2015 graphic novel is getting a lot of attention. I picked this up after reading the first volume of Lumberjanes, and it did not disappoint. It was so much fun I read it in one sitting. Below is a brief plot description, again from GoodReads.com.
"

Nimona is an impulsive young shapeshifter with a knack for villainy. Lord Ballister Blackheart is a villain with a vendetta. As sidekick and supervillain, Nimona and Lord Blackheart are about to wreak some serious havoc. Their mission: prove to the kingdom that Sir Ambrosius Goldenloin and his buddies at the Institution of Law Enforcement and Heroics aren't the heroes everyone thinks they are.
But as small acts of mischief escalate into a vicious battle, Lord Blackheart realizes that Nimona's powers are as murky and mysterious as her past. And her unpredictable wild side might be more dangerous than he is willing to admit.
"
Newest:
The following titles are either just one or two issues in.
Huck by Mark Millar
Huck came out this week, it's main protagonist has been described as a combination of Forrest Gump and Superman. Huck, who has amazing abilities, lives in a small town and uses his gifts to help people.
All New All Different Avengers by Mark Waid
Kamala Khan is now an Avenger, her first line in this series, "You're a Jerk!"
I Hate Fairyland by Skottie Young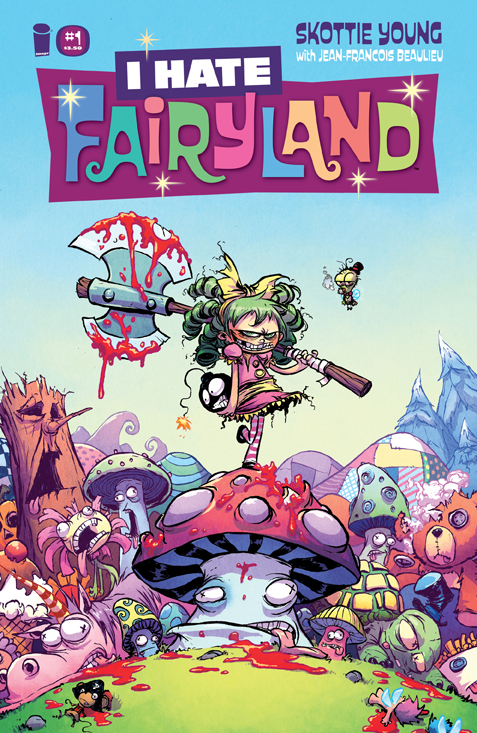 I've never read something where I laugh hysterically and repeat "Oh my Lord" at the same time. Gerturde, a lovely little girl with a wonderful imagination gets sucked into a magical land when she is seven, Fairyland. Cut to 47 years later, she is still there, searching for a key that will take her home. And she is not happy about it.
Paper Girls by Brian K. Vaughan
Set in the 1980's, Paper Girls has been described as War of the Worlds meets Stand by Me. Without giving too much away I'll only say that this comic starts out on the early morning after Halloween and follows a group of paper delivery girls who discover something strange going on in their town. Also, the art by Cliff Chiang is BEAUTIFUL.
And last but not least, here are the covers of some of the upcoming releases that I am excited about. What is on your current pull list?
Moon Girl and Devil Dinosaur