Can we all agree that jumping to conclusions is never a good thing? I'm an open minded person, I'm an inclusive person, and I recognize that not everyone's personal or family life is the same.
As Librarians we are well aware of our community and the people that live in it. This also means that we know who comes into the library, when they do, and if they attend programming or not. Not every library is the same, thus not every library community is the same. Our library is in a suburban setting that has one of the fastest growing populations in the state, it also happens to be one of the most affluent areas in the state as well. This doesn't mean that we don't have people on the other end of the economic spectrum, because we certainly do, these are just facts about the area. We have a good population of stay at home Mom's that fill our weekly storytime and babytime programs. We have diverse programming, including a bilingual (Spanish/English) storytime and a sensory storytime.
We also have a quarterly Saturday storytime called Donuts and Dad's. We rarely see Fathers or Grandpa's in our weekly programs and we wanted to create a program that was inviting to this population. We felt as though not many Dads felt comfortable during the week to bring their kids to storytime that was 99.99% women almost every day. We do not turn anyone away from this program. If a Mom, Grandma, or anyone else who is not a "Dad," wants to come to a storytime that promises donuts, we say "Welcome."This month our co-worker who plans the program featured a March Madness theme, everyone had a blast and some Dads even dressed in college basketball spirit wear.
When another professional posted on a social media group looking for name ideas for a storytime featuring donuts and coffee, I offered up my co-workers program, Donuts and Dads, as an example. I explained that we don't discourage Moms or anyone else from bringing the kids themselves. I thought I was helping, giving an example of a niche program in our library that deviated from the norm to attract a population we don't often see in our library. Instead, I apparently opened the floodgates.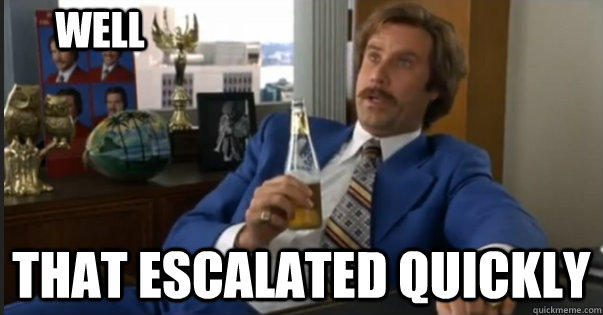 I felt I was immediately attacked by another professional on the group, stating that I wasn't considering two Mom families, families with a deceased father, abusive father, and that I was enforcing very traditional gender roles. This was all in what I considered to be a very harsh and accusatory tone, considering this person knows nothing of our multiple programs a day every other day of the week. I had some people back me up, which I am thankful for so I would not be tempted to reply. I do not believe in people fighting on social media, hiding behind the safety of their keyboards, destined to probably never meet in person, attacking people with a certain level of anonymity.
1. Yes, I understand it is a gendered name, but it is designed to be attractive to a certain population we don't often see in our particular library.
2. We offer a storytime setting every other day of the week, and various programs that cater to a wide range of ages, times convenient to parents/caregivers, interests, skill levels, etc.
3. Again, we would never turn anyone away from attending simply because they "didn't fit the description" that our title suggested.
Jumping to conclusions is never a good thing. We try to be as inclusive as possible, but sometimes it is OK to try and aim for fringe group once in awhile. There are gray areas in ideology, I can enjoy being a wife and also be proud that I have a career. I can have a baby and still believe in a woman's right to choose.
This stranger on the internet has no idea that I have friends and family in every type of situation she described while attacking me. She assumed because of two sentences I wrote that I or my library must want women standing barefoot in the kitchen like it was 1940. She has no idea just how much of left leaning, progressive, feminist I am.
We as professionals can disagree on things, but we can also do it in a way that does not attack each other, that is part of being a professional. And, as my parents taught me, never assume anything.
As always, I state that I am still new, I don't know everything. Feel free to disagree with me or correct my knowledge gaps, I just ask for common courtesy.