Amina's Voice
by Hena Khan
Amina is much like any other middle school student, she is worried about changes in her life.
"She has never been comfortable in the spotlight. She is happy just hanging out with her best friend, Soojin. Except now that she's in middle school everything feels different. Soojin is suddenly hanging out with Emily, one of the "cool" girls in the class, and even talking about changing her name..." -GoodReads.com
Her friendships are changing, a new family member is coming to stay at her family's home, and Amina isn't sure how to be herself. Amidst all these new challenges Amina's mosque is vandalized. Family and friends come together to pick up the pieces and heal hearts and in the wake of tragedy Amina finds out who her real friends are.
My Thoughts:
Put this book into the hands of your middle grade readers now. With everything that is going on in the news today we sorely need diverse narratives like this one.
It also touches on common experiences of everyday tweens.
Who hasn't gone through a period in their lives with great change? Common interests between friends change and friendship circles might ebb and flow. I would recommend this read for Ages 9+.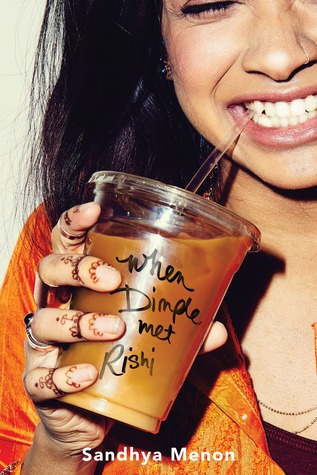 by Sandhya Menon
Summary (From GoodReads.com):
Dimple Shah has it all figured out. With graduation behind her, she's more than ready for a break from her family, from Mamma's inexplicable obsession with her finding the "Ideal Indian Husband." Ugh. Dimple knows they must respect her principles on some level, though. If they truly believed she needed a husband right now, they wouldn't have paid for her to attend a summer program for aspiring web developers…right?
Rishi Patel is a hopeless romantic. So when his parents tell him that his future wife will be attending the same summer program as him—wherein he'll have to woo her—he's totally on board. Because as silly as it sounds to most people in his life, Rishi wants to be arranged, believes in the power of tradition, stability, and being a part of something much bigger than himself.
The Shahs and Patels didn't mean to start turning the wheels on this "suggested arrangement" so early in their children's lives, but when they noticed them both gravitate toward the same summer program, they figured, Why not?
Dimple and Rishi may think they have each other figured out. But when opposites clash, love works hard to prove itself in the most unexpected ways.
My Thoughts:


Oh my goodness, this book! I NEEDED this book in my life right now. I have been reading such serious books lately and was so excited when this hold came through. I don't normally like romances. I can't the the gushing over each other, the batting of eyes, the whole lovesick puppy dog atmosphere that intrigues others to these kinds of books.
Dimple is what made this book for me. She is PASSIONATE about her goals and dreams for the future and goes to the coding camp to win her way to a better future. Dimple's parents (mostly her mother) want what's best for her, and to them that means marrying a "Ideal Indian Husband." Unfortunately for Dimple she runs into a "surprise" named Rishi and almost everything changes.
Rishi is deeply committed to his family and cultural roots. His parents had an arranged marriage and has seen how that has worked out splendidly for them both. When his parents tell him about Dimple he thinks she knows about him and their "arranged future" as well. Rishi is also in for quite a surprise when his supposed future wife not only rejects him, but literally throws his advances back into his face when they first meet.
This book is mostly cautious in regards to Dimple and Rishi's physical relationship but a few scenes might be a little too steamy for some. I would recommend this read to Ages 15+.