I set my GoodReads challenge lower this year. 24 books instead of 50. This allowed me to not only complete the goal, but to surpass it!
I know it's a silly thing but I love silly things.
Something that helped me complete that goal was to reread the Harry Potter series this summer. It was fun, glorious, and something that made me completely relaxed during SRP. Plus, it's the 20th year anniversary and I just had to!
The first book came out in the U.S. in September of 1998. I was eight years old, about to be 9 in November. My Dad bought the book for us and read it aloud every night until we finished. I am not lying when I say that I really remember him reading that first chapter to us. It was indeed, magical.
And just LOOK at the new Brian Selznick cover!
I have read Adult Non-Fiction titles, including; Trevor Noah's
Born a Crime
,
I'll Be Gone in the Dark
, the excellent and crucial work
So You Want to Talk About Race.
I deleved into an infamous Hoosier's life by reading the terrifying but fascinating book that looked at the People's Temple and Jim Jones,
The Road to Jonestown
.
Fiction titles included the new mystery,
The Woman in the Window
laced with an unreliable narrator and a Rear Window feel. I also jumped headfirst into the
Crazy Rich Asians
trilogy and I am currently reading the third book,
Rich People Problems
. I still haven't seen the movie and probably won't have the chance until it comes out on DVD.
I have been slacking on middle grade books but I did manage to read two excellent graphic novels,
Cardboard Kingdom
and
All's Faire in Middle School.
Rick Riordan's imprint came out with it's first book
Aru Shah and the End of Time
by Roshani Chokshi
.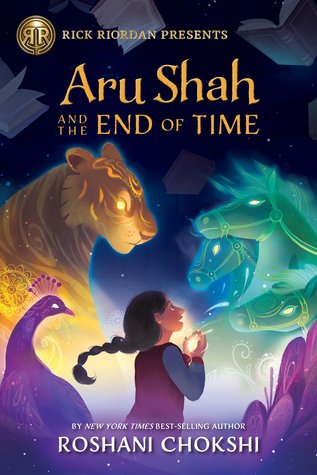 I devoured 10 Young Adult titles. Some with serious themes such as,
Tyler Johnson was Here
written by a fellow Ball State Alum, and the wonderfully diverse anthology,
Fresh Ink
.
Neal Shusterman made me scared and made me think with
Scythe
and
Thunderhead
. Is it 2019 yet? I NEED
The Toll
!
As a librarian in the Indianapolis area I was obligated to read
Turtles All the Way Down
, I wasn't too interested in the story but the descriptions of anxiety are very relevant to what many teens are experiencing in higher rates these days. And I did finally get around to reading
Everything Everything
by Nicola Yoon.
Women are rocking it out in YA!
The Belles
,
Dread Nation
,
Puddin'
and
Leah on the Off Beat
(the Love, Simon movie made my heart so happy) were ALL very excellent!
The Belles
sequel,
The Everlasting Rose
, is another 2019 book that I cannot wait to get my hands on!